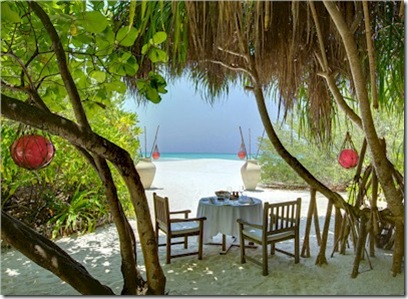 If you want to really get away from it all, including the resort itself, then Kanuhura offers a deserted island restaurant, Kandu.
"Kanuhura has opened a new restaurant, 'Kandu', on Jehunuhura, its own private Robinson Crusoe like-island. Kandu means "blue sea" in Divehi. This exciting new outlet, the first resident restaurant set on a private islet in the Maldives, will enable guests to discover a totally new concept of Grill restaurant on a tiny getaway island a few minutes away by boat transfer from Kanuhura."
Most resorts offer special 'excursions' for meals on nearby deserted islands or even sand bars out in the ocean. If you wanted a lunch, then you typically got a hamper-style picnic. If you wanted dinner, then you typically had to pay often hundreds of dollars for a rather elaborate production of chef, waiter and supplies all being shipped out to the venue. Kandu provides an established dining area with comfortable seating and stylish touches of décor. The prices aren't cheap ($20 – $30 for starters and $30 – $40 for mains), but they are at least menu based rather than a set cost.