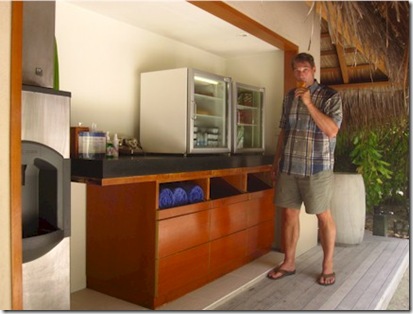 Talk about 'hitting the spot'.
For those who don't want to go far at all for their refreshment, then the W Retreat's 'Sweet Spots' are the place for you. Dotted around the tiny resort are small unmanned stations where you can help yourself to a fresh towel, sun lotion, and drinks like iced coffee. But best of all…free ice creams – Magnums, Soleros, Cornettos, vanilla and strawberry ice cream tubs.
It's not like there is far to go anywhere in the island. If you were on the complete opposite side of the island, the apex of the further point away from the restaurant, then it might take you 5 minutes to get there. But such is the extremes of indolence inspired by the soporific Maldives, that the W has astutely catered for. Completely in keeping with their 'Whatever/Whenever' service ethos.
Speaking of 'Sweet Spots' and 'resort strengths', I have to share a piece from my friend Mike Pegg, who is one of the UK's top executive coaches who has written a number of books on exploiting one's strengths, Mike Pegg – "3 Tips for Hitting the Sweet Spot."