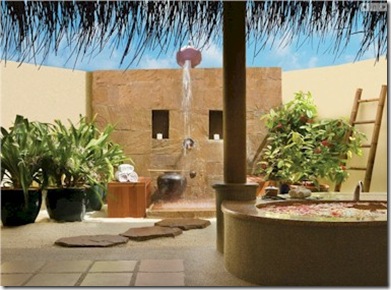 "Your bath is drawn, m'lady"
You don't need a butler at Kanuhura to get decadently pampered including having your bath drawn for you. Not just any bath, but your choice from their signature 'Villa Bath Menu' which include choices of "Veyoge Absolute Flower Bath", exotic "Kanuhura Flower Ritual" or "Enchanting Breeze Flower Experience".
"Drawn by the villa host at the guest's chosen time, illuminated by a scented candle or oil burner, the water strewn with petals and accompanied by Champagne and chocolate dipped strawberries as well as a kids bath ceremony with milkshakes, cookies and a bedtime story."
I don't think my kids would protest at bath time with that sort of luxurious enticement.