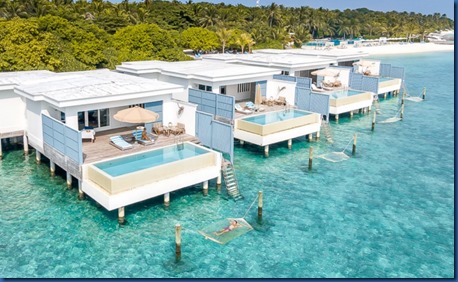 One of the biggest trends in Maldives tourism is move from shopping for a resort to shopping for a villa. Maldives distinguished itself years ago with the concept of "One island, one resort". People decided on which resort island was for them and they knew that their entire Maldives experience would be contained in that microcosm of aquatic terrain.
This concept contributed strongly to the development of Maldives Complete. Because you were segregated on a single island, choosing that island carefully was all the more important. It wasn't like choosing a city hotel where the hotel part of the city break was just a small part which also included restaurants, shopping, sights, etc. outside the hotel. Furthermore, because the property was so clearly delineated, it also made developing a database on the characteristics of the resort easier as everything on the island was specific to that property.
But as I have noted on numerous occasions, guests now seek out "villas" with the same discernment that they used to seek resorts themselves. In the early years, each island only had a few room categories – Standard, Deluxe, Water Villa, etc. – to choose from. What distinguished your holiday was the island you chose and the rooms were more uniform within the island. I wrote a post in 2010 about Kurumba having the most room types with 8. Today, I don't know of a single new property that has launched with less than that. Soneva Fushi has 27 room types today!
In 2012, I launched the Room Type database to help guests with the task that was now an order of magnitude larger of choosing a room type as opposed to just choosing an island. Just this past October, I amended the popular "How to Pick the Perfect Maldives Resort" post by removing the criteria of whether the resort had a pool or not. This characteristic was one of the very first ones I researched extensively in the 90s before all this Internet stuff as we knew that our kids loved to pay in a pool. Now all but a couple of resorts have a pools. The real question is whether you want your villa to have its own personal pool.
All sorts of special amenities that used to be distinctive for resorts are now available in your own villa (for the premium rooms on the rate card). I remember when spas were just starting to be introduced in the Maldives. Often a therapist on contract given and room and a table to work at buried in the island interior. Now some Presidential suites have their own in-villa spa rooms.
The latest distinction to have gone personal are water hammocks. First spotted at Anantara Dhigu in 2011. In 2016, I was able to post a collection of water hammocks at various resorts. Now, Amilla has added personal water hammocks outside a bank of its water villas!