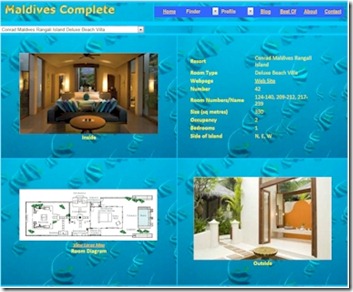 How to get more 'Complete' when you are 98% complete?
The Maldives Complete set of Profiles are currently 97.4% complete among active resorts. A 'complete Profile' is having all of the information and photos in the standard profile. Even when inactive resorts are included, the completion percentage is 93.5%. At that level, it becomes a rare occurrence to find information that we don't have yet. We don't want to fill Maldives Complete with useless stuff. There's too much of that on Maldives websites already. But I think that there is one set of information that is becoming increasing important for prospective visitors and yet extremely hard to come by and compare…Room Types.
When I started coming to the Maldives and even to a degree when I started the site a few years ago, the Resort defined the rooms. Most of the rooms in a given resort were pretty much uniform. There was occasionally a 'Presidential Suite' for big spenders and VIPs, as well as the ever increasing number of Water Villas. But aside from those variations, if you chose a resort, you pretty well knew what the room would be like.
Not any more. Not just are the resorts becoming more diverse, but the rooms within each resort are also getting more diverse. So much so that a good number of islands have two distinct classes…one catering to 4-star and one at a 5-star level. Beyond that basic breakdown in standard, all sorts of other variations are being introduced…different sizes, layouts, features (eg. glass floors), pool/Jacuzzi option, etc.
You see the interest and the corresponding confusion on travel forums like TripAdvisor. More and more of the posts are less enquiring about an ideal 'resort' and more about an ideal 'room'. With all of the diversity, a special room in one resort might be the perfect 'room' that someone is looking for even though most of the other rooms are not anywhere close.
To help with this new level of complexity, I have added 'Room Type Finder' and 'Room Type Profile' pages to Maldives Complete. They behave almost identically to the existing 'Finder' and 'Profile' features.
Many resorts have about a half dozen types of rooms. I've already written about Kurumba diversity topping 9 room types (and that doesn't even include any water villas). But that was a few years ago and now about a dozen resorts offer that many types (or more). On average, about a 100+ resorts (I only include 'Acrtive' resorts) with 4-5 room types on average means about 500 or so Profiles. Again, the spirit of the Profile section is to provide a few of the key pieces of information and photos in a consistent manner for easy comparison. With about 10 pieces of core profile information per Room Type, that's a potential 5,000 piece of information. Even at this early stage of research, we already have over 900+ photos. Nonetheless, of the core profile information, we currently only have 34% Maldives-Complete-ness.
The current pages are still pretty much in 'Beta' form. This means that I am sure there will be lots of gaps, mistakes, missing stuff, requested enhancements and even bugs. But best to get the current version out there so it can be whatever use it can be, and people can start to feed back to me with corrections and requests.
I have an number of enhancements already in the works. Information about the restrictions of children in the rooms which is a very key consideration for families interested in water villas where the rules can vary quite a bit about children allowed. Also, I am only about halfway through gathering the room 'rack rates' data so people can filter on pricing.
Special thanks to my research assistants Grace and Emma.