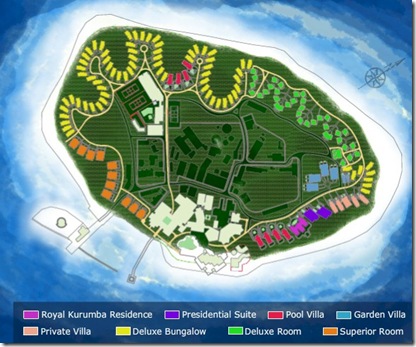 Most resorts have a handful of choices for types of rooms. Most typically, they will have a couple versions of a beach bungalow (standard and deluxe) and increasingly a majority of resorts have a water bungalow option (61 of the 121 resorts in the Maldives Complete database). Sometimes they will add a special 'suite' which will be a specially designed, king-sized accommodation for VIPs and thick-walleted customers.
But if you like your room choices the way you like your doubleshot-decaf-dry-skinny-mocha-latte, the Kurumba is the rate card for you. They have 8 different room categories…
Royal Kurumba Residence

Presidential Suite

Pool Villa

Garden Villa

Private Villa

Deluxe Bungalow

Deluxe Room

Superior Room
And these are just land-based lodging variations as Kurumba does even not offer water bungalows.
Kuramathi list 9 on its rate card, but 4 of these are just one type with a Jacuzzi added, and not completely really a different styles.