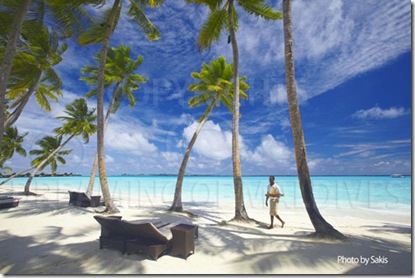 (photo reprinted with permission)

Today's superlative comes to us again courtesy of Maldives photographer extraordinaire Sakis Papadopoulos whose Dreaming of Maldives site shares tidbits often as colourful as his snaps. Last week, I caught this superlative on his Twitter feed wishing a 'Happy Birthday' to Shangri-La Villingili which happens to be shared with Maldives itself (26th July).
He also noted Shangri-La Villingili's distinction as the 'Furthermost Resort of the Maldives'. Actually, if you used the Maldives Compete Resort Finder, you too could have uncovered this as it would stand out with a list topping 550 kilometres from Male.