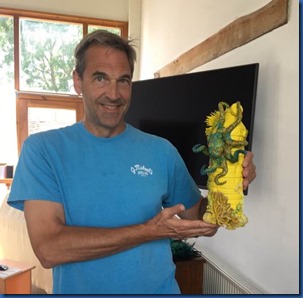 If I can't get the Maldives, I'll bring the Maldives to me. And if I can't find an obvious thing in the Maldives (#20), I get go get that too.
My partner in paradise, Lori, and I celebrated our 35th anniversary last week. The traditional gift for that semi-decennial milestone is coral. Every year we are in the Maldives in July celebrating our anniversary there, and this year, with the coronavirus issues, was the one year, coral year, that we had to stay home. Still such obstacles did not stymie Lori. She immediately admired Stephanie Kilgast's work that I highlighted a couple of weeks about in my latest instalment of the "Haven't Seen Yet" series.
She chose the piece "Yellow Exploration (Octopus) – 2020". Her card to me read: "The piece reminds me of the joy I felt while watching that little octopus from the within the underwater restaurant at You & Me in 2019." She went on to talk about the corals' resilience and hardiness, and the octopus's intelligence and magic all of which our adventuresome marriage shared.