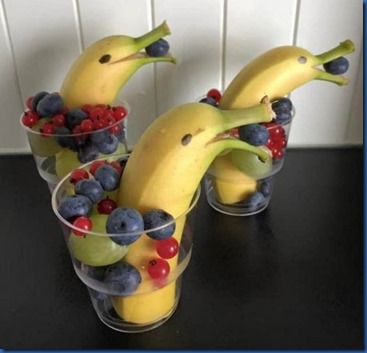 How fun is that above? (thanks Cori)
Missing our annual trip to the Maldives is not fun though. SO I guess we will just have to continue to wallow in digital vicariousness.
Usually, this time of year we are in the Maldives on our annual research tour. I don't think I've ever missed them more (especially sitting here looking out the window at the dreary rain in my woolly jumper). Right now I would be scouring the resort islands for new and distinctive features I still haven't seen in my two decades of visits. And at the end, I would traditionally issue by bi-annual "Haven't Seen Yet" update. Well, I may not be able to see more things yet, but I certainly have found a number of things that should be there:
Aquatic Geode – These blue agate slices are simply so reminiscent of the Maldives tapestry of blues. Our daughter bought me a set of them to use as drink coasters, but they are simply lovely décor in their own right.


Geode Towel – Love the colours and design. The tapestry of blue depicted on a pool-side tapestry.


Beach Towel Cover – Clever way to make a beach towel better and hard loungers better.


Blue Tang Cloth – I came across this fabric looking for some material to have a custom COVID19 face mask sewn for me. Resorts could produce all manner of items for the resort or the gift boutique like face masks, sarongs, shirts, etc.


Colour Changing Swim Shorts – To impersonate a colour-camo-changing octopus, you can get your own pair of swim trucks which change colour when they get wet.


Claudio Lugli Tropical Fish Shirt – I love these shirts, but unfortunately their tropical fish line is out of stock now. Maybe some resort can convince them to do another run.


Whale Shark Legging and Top – NuWave's leggings and top are great to not just see the whale shark in, but to *be* the whale shark.


Sharkasm T-Shirt – Loving it. No, seriously.


Silver Shark Bracelet – From the same makers as the Sharkasm shirt (Ocean Dose) is a charming rope bracelet with a shark charm (and available in 6 different colours).


Shark Slippers – Wing-Tipped reef shark for the fishy cushy fashion statement.


Whale Shark Plush Toy – I love the whale size of this cuddly toy. Unfortunate about the "blow hole" painted on the top of the head ("whale sharks" are "sharks" not "whales" and so they don't have blow holes).


Ocean Sole – An exceptionally charming and innovative up-cycling company at its Indian Ocean neighbor Kenya. They gather up hundreds of discarded plastic flip-flops on the beaches and transform them into stunning, playful figures.


Shark Wine Goblets – For the more adult galeophiles to hold and savour…


Motorized Pool Lounger – Many pool loungers come with cup holders for your drink but not the self-propulsion to return you especially to the swim-up bar for a re-fill.






Kayak Sail – Something to catch those gentle ocean breezes and make an outing even more lazy.


Water Boggan – Or less someone else do the work of pulling your around on the water on a matt that you can lie on, stand on or do jumping jacks on.


Red Shark Bikes – Or less lazy, if your prefer. A step up from the previous ocean bikes noted way back in my second instalment.



Exo-Lung – Could be ideal for house reef exploration.



Coral Crochet – Or resorts can commission a gorgeous crocheted version of their reef for the reception. Check out the brilliant TED (2009) talk by Margaret Wertheim on "The beautiful math of coral" – "The frilly crenulated forms that you see in corals, and kelps, and sponges and nudibranchs, is a form of geometry known as hyperbolic geometry. And the only way that mathematicians know how to model this structure is with crochet."


Stephanie Kilgast Art – French artist Stephanie Kilgast is inspired by a range of natural delights especially corals and some other undersea creatures.


Sea Urchin Hats – After noticing his urchins carrying rocks, shells and even hermit crabs around aquarium, a Colorado aquarium enthusiast Wilson Souza started making them custom hats. Subsequent studies by marine biologist hypothesize that sea urchins don these hats (or shells other things they come across) for much the same reason humans do – UV protection from sunlight.


Golsa Golchini Art – Italian artist Golsa Golchini has a few pieces just right for the Maldives.


Pool Roof – Not a "Roof Pool", but a roof made out of a pool.


Natural Pools – Like this one from Soneva, but Soneva Kiri (thanks Paola)


In-Water Dining –

Bora Bora takes "in water" dining a step beyond a few tables temporarily immersed in the shallows.


Tipping Breakdowns – Guests are always frustrated to know whether (a) they are tipping enough (they don't want to offend or hurt any staff), or (b) they are tipping too much (this trip has already cost us a lot). It is complicated by the addition of mandatory service charges to all bills. In principle, this should relieve the headache as some "service" has already been provided for the staff, and I suspect that ad hoc tipping dropped considerably when that change was implemented. But still, there is an enduring sense that this service charge is just a basic amount and that additional bonus gifts are both welcome and done by a number of guests. I think was would be very helpful is if a resort shared the profile of tipping with the TripAdvisor Forum. Something along the lines of: As you know, all Maldives resort bill include an amount billed for service charge which is shared among the staff. Because this amount is provided by law, we reassure guests that they are not in any way obliged to leave further gratuities. And yet, many guests want to leave further gratuities. And their generosity is frustrated to an additional degree because there is no guidance as to what is "minimum", "average" and "exceptional". In other countries, there are more accepted conventions. For example, in the UK, a 12% tip is considered a minimum, 15% is average and more than 15% is generous. Also, since there is no convention, people don't have an idea of just how prevalent certain gratuity practices are. As a result, I am told that it would be helpful to share "what other people are doing". This in not in any way intended as a prescription of what "you should be doing". It is just information that get asked for regularly.
· XX% leave no extra gratuities at all.
· XX% leave very modest gestures of appreciation (for example, $10 or less to an individual staff member covering the whole stay).
· XX% leave generous extra gifts (for example, $10 to $50 per staff member covering the whole stay).
· XX% leave crazy generous gifts (for example, more than $50 per staff member covering the whole stay).I think this information will both help guests' peace of mind and maybe even boost gratuity given at the resort. Those who are really tight will have solace in reading "Ah, ok, I'm not alone as XX% people also don't give tips so it's not just me." But others will self-select and think "Ah, I want to be one of those "generous extra gift" people so I am going to leave that amount.

Max Benjamin "Maldives" Diffuser – Gift from Lori from Christmas. Stocking these in the boutique makes a lot of scents!.


Electric Seaplane – Ok, which eco-minded resort is going to be the first to boast one of these babies??