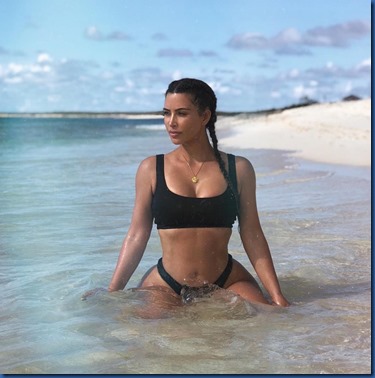 Maldives has always been a celebrity magnet from movie stars to world champion athletes, but there very definition of the term celebrity might just go to recent visitor Kim Kardashian. I've covered the top Instagrammers invading this tropical paradise using the Follower count. But the resort marketing directors will be quick to point out that it is all about engagement. And that metric starts with "Likes". When I consider posts for inclusions in my various "Fashion" collections, popularity is a consideration (ie. a borderline photo with an amazing number of Likes might get included). A few hundred likes is pretty typical for a fine shot even among the more popular fashionistas. Four-figures raises an eyebrow, 5-figures is quite amazing and anything beyond that is quite jaw dropping.
So what it the most popular Instagram post from the Maldives of all time? From what I can determine in my pretty extensive research, it is Kim Kardashian's "shallow wallow" (a class Maldives pose) Conrad Maldives at with a stratospheric 3,323,466 Likes
The next closest (the only other 7-figure post) I have seen is Kriti Sanon's (19.2 million Followers) post with 1,289,564 Likes.
❤