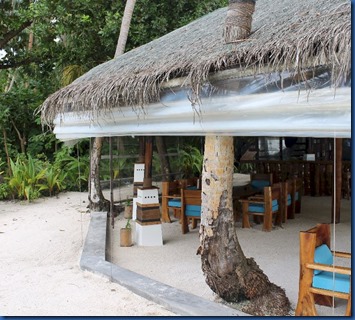 Today Earth is celebrating Earth Day to appreciate the special blessing that is this spinning ball of rock and water. Its fragility as a home to humanity and millions of other species has becoming increasingly clearer in recent years and more people are looking for ways to live in harmony with the planet rather than conquering new frontiers. I've always described the Maldives as "that iconic plot of sand with a palm tree on it". The palm tree is very much symbol of marooned life floating in the ocean and palms are indeed the centrepiece of the island ecosystem. And if one island exemplifies and nurtures this Arecaceae appreciation, it is AaaVeee.
There must be more palms trees per square foot than any island I have ever been to. The resort goes to considerable lengths to keep and foster even more. Many of the buildings were simply built around the trees with their trunks sticking through holes in the roof. The main bar has 5 palm trees piercing the rooftop rather than removing them.
In fact, the palm trees themselves do their bit as well. Nazeeh showed me a few seedling "twins" on the island (two trees growing out of a single pod). And the island features a very curious specimen which refuses to shed its fronds when they die (see photo at bottom) creating quite a striking collection of old fronds.