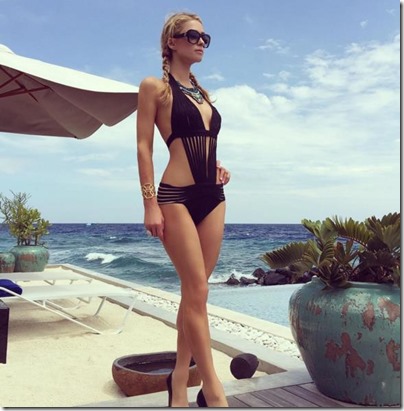 Nine years ago today, Instagram was unleashed on the world. Maldives Complete had already been on the web for nearly a year at the time. Instagram has come a bit further since ;-). It has emerged as the social media of choice for the celebrity and fashionista class. The photo-based platform suits the beautiful people crowd quite well.
Instagram has changed our world and even Maldives Complete. The "Celebrity Visited" field in the resort profile has been a part of the site from the get-go and was gleaned mostly from press reports and celeb sponsored visits travel pieces. But Instagram has turned both the information and photo op spigot full on. I introduced the "Fashion" section of the blog two years ago this month and it has rapidly grown to be one of the most popular features.
So who is the "Best of the Maldives" at attracting Instagram followers through its guests? Velaa – they have the largest total number of aggregate celeb guest followers (117,790,176), as well top (tied) position for most Top 20 guests (3, along with Four Seasons Landaa Giraavaru).
Here are few other fun figures about the sun-kissed figures…
Followers: Each cluster of an order of magnitude of followers all had between 300-400 fashionistas.

< 10k followers: 341 visitors
1k – 10k: 454
10k – 100k: 468
100k – 1m: 347
> 1m: 106

Occupation – Entertainment was the dominant field here with creative and sporty type following.
RESORT

FOLLOWERS

1

Velaa

130,684,342

2

NIYAMA

108,835,373

3

Finolhu

5

7,357,484
4

Four Seasons Landaa Giraavaru

57,100,000

5

Cheval Blanc Randheli

44,084,145

6

One & Only Reethi Rah

43,016,283

7

Huvafenf

ushi

35,564,912

8

Six Senses Laamu

34,504,716

9

Four Seasons Kuda Huraa

23,093,022

10

W Ret

reat

13,266,346
OCCUPATION

FOLLOWERS

1

Singer

/ Musician

215,354,798

2

Model

201,904,735

3

Actress

/ Presenter

125,240,233

4
Blogger / Designer

99,388,622

5

Athlete

6,912,456

6

Dancer / Yoga

6,323,516
COUNTRY

FOLLOWERS

1

USA

130,684,342

2

United Kingdom

108,835,373

3

Russia

5

7,357,484
4

Barbados

57,100,000

5

India

44,084,145

6

Columbia

43,016,283

7

Thailand

35,564,912

8

Brazil

34,504,716

9

Australia

23,093,022

10

Philippines

13,266,346
INSTRAGRAMMER

COUNTRY

RESORT
OCCUPATION

FOLLOWERS

1
Jennifer Lopez

USA

Velaa
Singer
2
Rhianna

Barbados

NIYAMA
Singer
3
Shakira

Columbia

Velaa
Singer
4
Cara Delevingne

United Kingdom

Finolhu
Model
5
Bruna Marquezine
Brazil
Cheval Blanc
Actress
22,600,000
6
Huda Kattan
USA
Huvafenfushi
Blogger
15,200,000
7
Jacqueline Fernandez

India

Four Seasons Landaa Giraavaru
Actress
13,800,000
8
Rita Ora
United Kingdom
Palm Beach
Singer
11,400,000
9
Victoria Beckham
United Kingdom
One & Only Reethi Rah
Singer
8,900,000
10
Aum Patchrana
Thailand
Coco Palm Bodu Hithi
Actress
7,400,000
11
Roe Huntington-Whiteley

United Kingdom

Four Seasons Landaa Giraavaru
Model
7,400,000
12
Zoe Sugg
United Kingdom
Ranveli
Blogger
6,800,000
13
Park Shin-hye
South Korea
Soneva Jani
Model
6,600,000
14
Davika

Thailand

Club Med Finolhu Villas
Designer
6,400,000
15
Kimberley Anne Tiamsiri
Thailand
Kanuhura
Actress
5,700,000
16
Belén Rodríguez

Argentin

a

One & Only Reethi Rah
Model
5,600,000
17
Paris Hilton
USA
Velaa
Model
5,600,000
18
Eva Gutowski
USA
Six Senses Laamu
Blogger
5,400,000
19
Aliaa Bhaat
India
Four Seasons Landaa Giraavaru
Actress
5,200,000
20
Sveta Bilyalova
Russia
LUX South Ari Atoll
Model
4,900,000