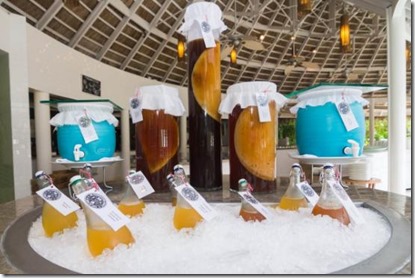 If you want more than just vitamins and minerals on the rocks in your health smoothie, then try a "Kombucha", a variety of fermented, lightly effervescent sweetened black or green tea drinks. LUX South Ari Atoll makes its very own version:
"Known as the 'Immortal Health Elixir,' we ferment our own variety of Kombucha ranging from black tea, green tea and coffee just to name a few and offering it to guest in our all-day dining restaurants as well as Spa."
Kombucha is produced by fermenting the tea using a "symbiotic 'colony' of bacteria and yeast" (SCOBY). In other words, SCOBY Snack!