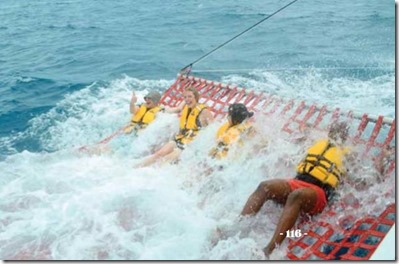 If you would like to mix your own body up with plenty of refreshing fluids and a shot of adrenalin, then check out the boom netting experience is part of Maalifushi's "Splash Cruise and Dolphins" excursion:
"Try a sunset cruise with a twist – or a splash – and join us on our Splash Cruise. Bring your swim wear and relax in the cargo nets as the water washes over you. If we are lucky some dolphins can be encountered on the way. "
Offered 16:30 to 18:30 Tuesday, Wednesday, and Sunday at a cost of $95 pax (also Private Charter for $500 for 2 hours +$25 pp for food/drink, and $47.50 pp for children 7-12).