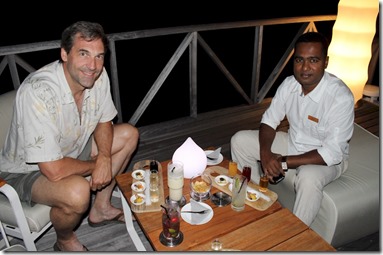 Beer with curry, Tequilla with lime and salt, a 'boilermaker' of bourbon and beer, Jagerbombs, Oyster with sweet wasabi with Prosecco, Bel Star, Brut, DOC, Veneto, Italy NV chaser.
Classic shot combos that have inspired Huvafenfushi gastronomic line-up of degustation and decantation.
We adore the variety of a tasting menu, but usually aren't hungry enough to make through such an extensive line up. Huva's "tasting" menu is literally "a taste".
"A taste of the gastro mixed with the mixology. Plated shots to include food and beverage paired together in small bites and shots. Please choose from the selection to mix and match your palate."
When we visited, we did the following rounds of shots…
Oyster with sweet wasabi – Prosecco, Bel Star, Brut, DOC, Veneto, Italy NV
Roast shitake mushroom with truffle dressing – Proprieta Sperino Rosa Del Rosa, Rosé Italy NV
Camembert and onion jam – Parellada "Honeymoon" Pares Balta 2012
Roquefort with truffle honey – Petalo Moscato Spumante "Vino dell'Amore" NV
Fresh fig with pistachio – Fontana Fredda Asti Millesimato Dolce, Italy 2011
Baby prawns with cocktail sauce – Sauvignon, Sileni Cellar New Zealand 2013
Gorgonzola with olive bread – Pulenta Malbec, Chile 2009