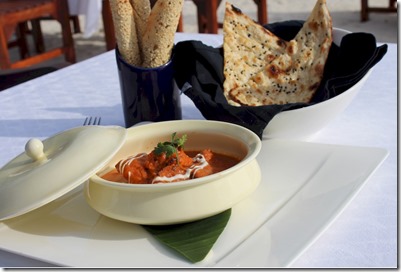 If you are not Instagramming yourself, then the next most popular subject is your food. And if you want to prepare something truly worth photographing, not to mention devouring, then I recommend Taj Exotica's house speciality Butter Chicken.
Maybe the best curry I have ever had (Maldives, London, New York or elsewhere) Our daughter Isley's favourite Indian dish, it was one of our favourite dishes of the 2016 tour. So creamy and perfectly spiced to warm your mouth with a glow of aromatic flavours. At $43, not cheap (though not the most expensive curry I have ever had. That was a $100 Lobster Curry in Soho).
As a holiday gift to you all, Taj has shared its recipe with you all in a Maldives Complete exclusive. Remember, the is to start with fresh, juicy, prime chicken breast.
Ingredients
7 pieces Chicken Tikka

150 ml Makhni gravy

3 grams Ginger (julienned)

10 grams Butter (softened)

5 grams Coriander Leaf (chopped)

2 grams Kasoori Methi (powdered)

10 ml Fresh Cream

2 grams Sugar
Directions
Heat butter in a pan.

Add ginger and saute.

Add cooked chicken tikkas and toss for a few minutes

Add makhni gravy and allow to boil

Add salt, sugar, kasoori methi powder and fresh cream allowing to cook for a few more seconds.

Garnish with chopped coriander leaves and serve hot.
If you can't get to the Indian Ocean these holidays, at least get a taste of it at home.