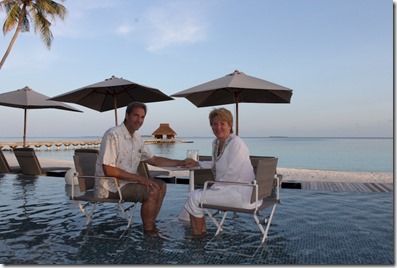 The Maldives is the ultimate life aquatic. Never mind the "SUNNY side of life" (there is sun all over the tropics), the Maldives is the aquatic side of life. A destination that is 99% sea. That's what you go for. The best experiences are all about the water – the otherworldly sense flying over the waterworld of islands, the world's best snorkelling. The water offsets the warmth of the pervasive sunshine with a compelling contrast. And the sun-and-sea blend is also quite common among tropical resorts. It's just that few destinations have as intimate a connection with the water as the diminutive plots of sand in the Maldives.
A few resorts have provided their guests with a chance to savour the water even more soaking their toes with waterside dining tables or even Four Seasons Landaa Giraavaru's in-pool table. But none so ambitiously as Velaa. They have loungers in their pool (see bottom), and dining tables in their pool (see above). They even have pools in their dining room. Yes, they have designed their seaside dining area with a small pool for diners to sit in over their meals if they prefer a more sheltered and secluded table to the pool option.
There's nothing like a good foot soak. Along with a steamy air (tick for that too in the Maldives), it's sort of the caricature of the cure for what ails you. Also, the "no shoes, no news" barefoot ethos of the Maldives is decadently delightful, but all that salt and sand can take its toll on the unaccustomed feet used to being cosseted in cotton and leather. So a cooling soak over that pina colada or just about any mealtime is an added sensory treat.