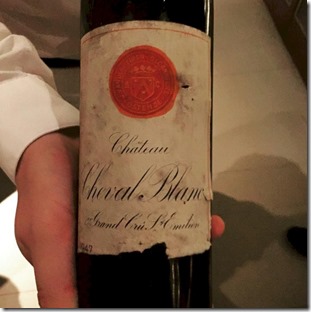 If you want to wet your whistle instead of your toes, then just across the Noonu atoll, the latest entry in the super luxury properties offers possibly the most sought after liquid refreshment in the world.
In the arms race of the deluxe 5+ stars, the resort wine collection is one of the big guns in the bragging battles. If the under-water rooms are 'aircraft carriers' in this tropical superposher rivalry, the wine collections are the 'nuclear submarines'. Cheval Blanc Randheli's megaton payload of luxury was not just one, but 6 bottles of what many consider to be the finest bottle of wine in the world – the 1947 Chateau Cheval Blanc.
In general, I try to the keep the "Best of the Maldives" categories quite narrowly defined (eg. best clothes hangers, longest left-handed surf break). Esoteric delineations are more easily unique or distinguished. The bigger the category, the more the competition and making it harder determine the stand out selection. Especially, when the bar is raised so high in the epicentre of luxury that is the Maldives. But I will go out on a limb on this one and say, Cheval Blanc Randheli has the best bottle of wine in the Maldives.
Okay, to quote Carl Sagan, "extraordinary claims require extraordinary evidence". And the story to these bottles is truly extraordinary …
Mike Steinberger of Slate writes, "It is the wine every grape nut wants to experience before he dies, a wine that even the most jaded aficionados will travel thousands of miles to taste." And those 'thousands of miles' arrive at "Le 1947" in the Maldives.