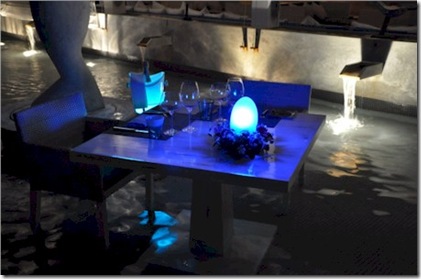 Ooohhh…sore feet. Whether it yesterday's marathon or tenderness from overly hot sand, Four Seasons Landaa Giraavaru has the pedi-treatment for you.
Their Blu restaurant is a lovely place with a rustic, understated elegance fashioned from unpolished concrete and distressed wood. To extend the soothing comfort of its Italian delicacies, it also offers diner in the pool. Many resorts have 'pool-side' bars, but Landaa is the first 'pool-in' dining. I thought that the sensation of warm sand between my toes during dinner was distinctive, but warm water soaking my feet while a crisp Sauvignon soaks my palette is sublime.
Landaa's piscinary gourmet uniqueness may be somewhat short-lived, however, as the upcoming Ayada resort has a published designs which show even more extensive catering to this no-shoes style of dining.
A final note to add an inspiring follow up to my post-script of the last post. Mark Deakin not only completed the London Marathon, but started a new life marathon at the same time as he stopped at the Tower Bridge to propose to his girlfriend, Ilona. So Landaa's pool dining can not only soothe Mark's weary feet, but also provide the perfectly romantic celebration to their new life together. Maybe this post should be 'Best Post-Marathon Marriage Proposal Romantic Dinner'.