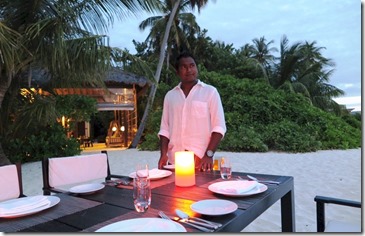 Happy Thanksgiving!
The American Thanksgiving feast is, as I described yesterday, a feast for food, family and friends. Park Hyatt Hadahaa offers a Maldivian traditional dinner with much the same spirit. Its "Maldivian Family Feast" is presented by a Maldivian host.
It's not a big buffet for the whole resort island, but rather an intimate gathering. Only 6 guests participate and it has more of a feel like being invited to a Maldivian's home. A proper home cooked meal with a guided tour of the cuisine and the traditions to "find your way around the table". What to do with the fish piece in the water and the sauces on offer. All presented at the convenience of your own villa
For the more seafood favouring guests, Hadahaa also offers "Fisherman Dining" ($250 pp) with Maldivian music and food set up also at your villa.
May your day be filled with many blessings and much gratitude.