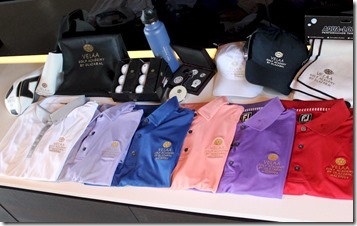 Black Friday – The biggest shopping day of the year in the USA (and probably the planet). Now is the time to start pulling out that Christmas shopping list and finding those elusive perfect presents. Fortunately, in our family, Lori and I have started playing more golf lately now that the kids have grown up. And there is no one easiser tro buy for than a golfer. There is no end to the gear and paraphernalia that a golfer can make use of. Not to mention all of the golf-themed day-to-day items like mugs, paperweights and statuettes.
By far the best golf shop ("Pro Shop" in the vernacular) in the Maldives is Velaa's own at their Golf Academy. They carry Tilelist balls, FootJoy shirts and all manner of golf items. They also provide Addidas shoes, Callaway and Taylor Made clubs for complementary use by guests using the facility.
Lori and I had our biggest shopping spree of our nearly two decades visiting the Maldives as the Velaa Pro Shop. Here's hoping your Black Friday is as successful and easy for you.