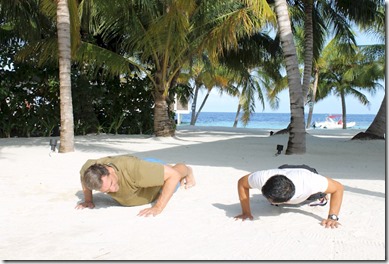 National Fitness Day today in both the USA and the UK. A chance for us to work on shaping up those body shapes for our own beach photoshoots.
On the Maldives Complete Profile pages, I try to limit the material to the key things people are interested in. One of these is a picture of the Fitness Centre. A good number of folks on the Maldives TripAdvisor Forum are always when people ask about the gym or workout facilities. Why on Earth would you want to do anything with the word "work" associated with it in the indolent Maldives??
Well, on my holidays in the Maldives, workouts were one of my top priorities. Unlike when I am at home, in the Maldives, I am rested and eating well. So my body is ready for some good exercise. As a more restless individual, it gives me something to do. The climate and surroundings are idyllic which are much more invigorating for a good session than trying to motivate oneself to go out in the chilly, damp of England. The whole time can be a bit of a physical bootcamp to re-boot the body.
Like everything in the Maldives, there is usually a "Beach" version. And Jumeirah Dhevanafushi offers a superlative Beach Bootcamp. It was started by Elmer who also pioneered Zumba in the Maldives. It was a "Tabata Bootcamp" developed by the Japanese to train their Olympic athletes. A high intensity interval workout like circuit training. 20 seconds of working out followed by 10 seconds rest for 8 rounds making a 4 minute segment. I sampled it when I visited the resort (see above and directly below) and it was as challenging as any hour long session I had ever done.
The bootcamp is now offered by physical instructor Tanya Shapoval (who also guide the yoga practice – see below). Incidentally, just started practicing yoga regularly myself (ouch!).
Be fit everyone!