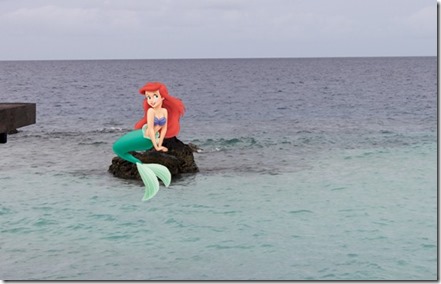 As Fashion Week has shown, there is nothing like just the right setting and backdrop to "make" a photo. When I was selecting shots for the photoshoot posts, I strong favoured shots by the water (only 2 of the 52 shots were not by the water). The ocean is what engulfs and defines the Maldives.
The "wading into the lagoon" is a popular pose (as is lying down an wallowing in the shallows), but then a part of yourself is submerged and hidden. If you want to set yourself apart, the Ocean Pearls of Jumeirah Dhevanafushi happens to have a random out-cropping of rock between a couple of the water villas. It is easy wading/swimming from to get to it where it provides an ideal mermaidesque posing platform jutting out of the sea.
So for those channelling your inner-Ariels (or if you are very lucky, maybe one of the Maldives' own extremely rare indigenous mermaids – see reported snap below – might just perch there themselves).