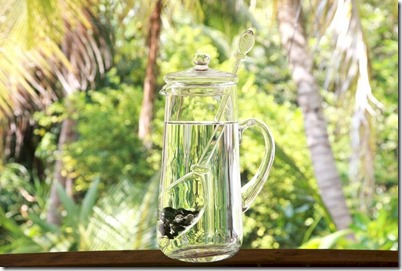 Soneva Fushi serves up a brand new age type of "energy drink"…with the only ingredient being water. And the impact of a bit of holistic energising. The water is served with a glass stirrer which contains different crystals each imparting a different energy type on the liquid.
Wellness – Rose quartz, Rock crystal, Amethyst
Harmony – Rose quartz
Regeneration – Emerald, Rock Crystal
Soneva describes that the energy enhancement "Maintains the balance between body and soul. Water enhances a feeling of overall well-being."
This post has also energised me to add a new blog category tag of "Water".