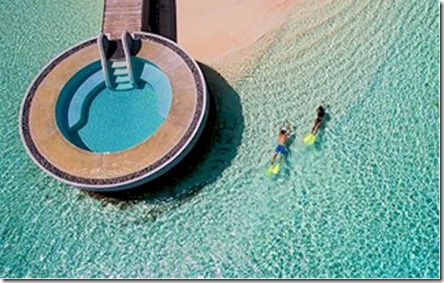 For the real aquaphiles, here is a big serving of water in…well, water. 
The Maldives for me has always been about the water.  A country that is 99% ocean and provides a more diverse seascape than just about anywhere on the planet.  Pools provide a salt-free, sand-free place to chillax.  Many resorts now put their pools right at water's edge and they all pools are now "infinity".  This means you can soak up the ocean view while you soak in the pool.  But Huvafenfushi offers a pool that takes the aquatic immersion a step further.  It's circular pool set in the lagoon at the end of a jetty offers a 360 degree ocean surround to your dip. 
An almost Magritte-esque island of water in the water ("ceci n'est pas une isle").