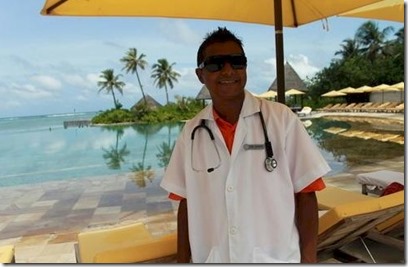 International Workers Day today is a chance to celebrate the sterling work that the Maldives resort staff provide every day of the year. They do every thing from keep us safe on snorkel trips to making sure that every whim is catered for.
One of my favourite all time roles is Four Seasons Kuda Huraa "sunglasses cleaner" which we saw when we visited there (but didn't get a picture). He even has a name a perfect as his role…"Dr. Shade"
"Mohamed Shareef, 28, has been working at the Four Seasons for almost seven years… I start work by 1:30 p.m., and I walk around and repair and clean guest sunglasses. Most people love to see Dr. Shade. I wear a stethoscope and a white coat. I have some tools. Mostly I just clean the glasses, but I can fix them if I need to."
Workers of the World Unfog!