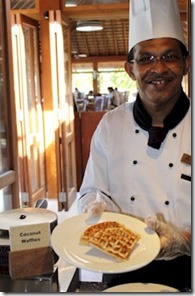 Waffle, waffle, waffle! There's a day for everything, it seems, and today happens to be Waffle Day (a Swedish tradition).
I always wonder why more resorts don't add a touch of the exotic to ordinary dishes. Which is why when I like to fuss over the exotic soupcon added to the soup, or the delicate tropical ingredient added to the delicacy.
One example is Vilamendhoo's coconut waffles. All resorts have a breakfast buffet and most serve have a pancake and waffle station. Just a touch of coconut turned Vila's from an ordinary offering to an extraordinary extra.
Läcker!