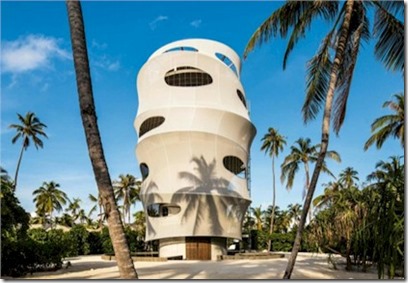 For a country whose highest natural elevation is no higher than your average stoop, the few places where you can get some height is a real rarity. The seascape is so uniquely exquisite, but the sea-level topology precludes much of an expansive vista overlooking it. This is why the sea plane transfers are such a special treat providing that breathtaking perspective that eludes the beachside gaze. I'm a big fan of Kandooma's tower and whenever I am in Male I always stop by Traders' roof top Azure lounge.
While not open for another couple of weeks, Velaa has started to post pictures of its ravishing new resort online including a number of shots of the surreal Tavaru Tower…
"Tavaru houses a Teppanyaki restaurant and makes up the centerpiece of the island: a visually striking ivory-white tower where live cooking and Velaa's extensive wine cellar take center stage."
High standards.