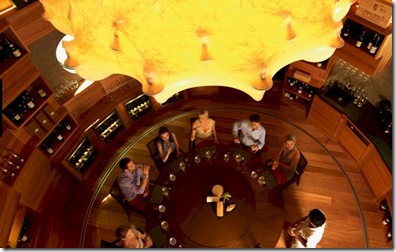 When is a wine cellar not a wine cellar? When it is on the roof. Well, at least up in the air.
When you think vast wine collections, you think of descending into a dusky basement. But the "wine cellar" is a bit of a throw-back to times before climate control. When under ground was the most naturally moderate and constant temperature one could find. But with today's modern air cooling and UV filtering glass, you can put your prized vintages about anywhere.
I was first struck by Coco Bodu Hithi who put their wine collection unconventionally *above* their restaurant. It meant they could hold wine tastings with gorgeous ocean views instead of sequestered in some hovel.
But Velaa went even further above that with their "cellar" propped up above the tree in their signature Tavaru Tower.
"A thorough delight for wine enthusiasts, the ivory-white Tavaru Tower hosts Velaa's extensive wine cellar. More than five hundred bins, the largest on Maldives, span the spectrum from boutique wineries to grand marques. Offering guests a rare opportunity to discover gems such as the 1956 Domaine de la Romanée Conti "Romanée Conti", rare vintage Salon Champagne, and a centuries old fortified 1870 Blandy's "Verdelho Solera", this exquisite list has unearthed treasures from across the globe."