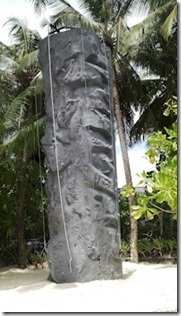 If you prefer amore adventurous route to your towering view, then you need to check out One and Only Reethi Rah's climbing wall.
"Extreme Engineering, the largest supplier of zip lines, climbing walls, Extreme Airs™ and adventure products in the world, has installed the 1st climbing wall in the Maldives at One&Only Reethi Rah!..The new climbing wall is a key feature at the resort, providing guests with high-action entertainment. The resort is equipped with the Monolith Stationary 5-Climber, a 26 feet tall (7.9 meters) climbing surface. The Monolith Stationary 5-Climber has 5 distinct climbing routes, one with over a 2 foot overhang! Each route will provide a unique, challenging climbing experience. The climbing hold placements can be reconfigured to provide endless combinations on the climbing wall. The route possibilities are very diverse! The very same wall has been used by ESPN for the X-Games' climbing competition. This model has also been used by the USA Climbing team. The climbing wall comes fully equipped with the patented, Auto-belay systems (the safest patented automatic belay devices on the market). The Auto-belay is a mechanical device (no power required) that keeps climbers safe and secure at all times. The Auto-belay removes the need of a belayer at the bottom of the wall during use. Just click into the carabiner with your climbing harness and you can head straight to the top! The fully redundant system is the safest on the market and the primary choice for climbing wall use. The Extreme Engineering climbing wall is accessible to anyone above 6 years old (minimum weight 45lbs. / 20.5kg and maximum 250lbs. / 113kg)."
The pinnacle of paradise.