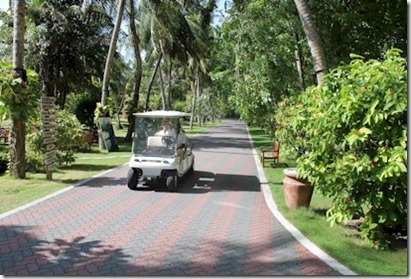 The 'Best of Maldives' I probably never thought I would give. Not only did I think I would never find 'streets' in the Maldives, if I did find them, I probably wouldn't want to showcase them as I adore the no shoes, sand between the toes Maldives. But the streets on Sun Island aren't just any streets.
An island as big as Sun Island starts to depend on a little conventional personal transport to get from one end to the other. Most bigger islands make do with electric buggies, but use sand paths in keeping with a natural, rustic aesthetic. Sun Island has a different ambience to it. Less deserted island and more tropical plantation. More retro-colonial than uninhabited. It still has acres of unspoiled natural splendour, but they are accented with touches of civilised elegance.
The 'roads' on Sun are a striking example of this design. Sun still has plenty of sand paths and the 'roads' are just a few main thoroughfare to get from one end of the island to another easily and smoothly. But the roads do not detract, but actually enhance to the look and feel having been laid out in such a refined way. No pedestrian asphalt or concrete, but rather colourful red and black brick lattice. In addition, the main streets are lined with smart lanterns hung from palm trees.
The combined effect also gives the island a bit more of a homey feel to it. Instead of feeling like some plot of sand with a few dwellings, you feel like you are in some exotic tropical community. It seemed a bit Dharma Project with its own distinctive exotic allure.