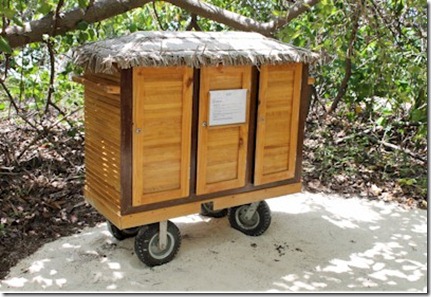 Secret bar! 'Nuff said.
That was certainly the reaction by the TripAdvisor Maldives Forum when word got out about the 'Secret Bar' at LUX* Maldives. It's just one of the countless surprises in the neverending adventure that is a stay at LUX* resort.
The 'Secret Bar' is on wheels so it can change location daily. When our family would visit the Maldives each year with our children, one of the ritual highlights was a treasure hunt we would stage for them on our own buccaneers isle. If we stayed at LUX* back then, I know that one way I would get an extra hour's sleep and get them nice a tuckered out would be send them on a daily sortie to find Dad's 'Secret Bar'.
It works like a public mini-bar on an honesty system (genius) and so far they haven't had any problems with unsavoury scallywags pirating liquid lucre.
Shiver me timbers! Me'll have two black jacks' of grog.