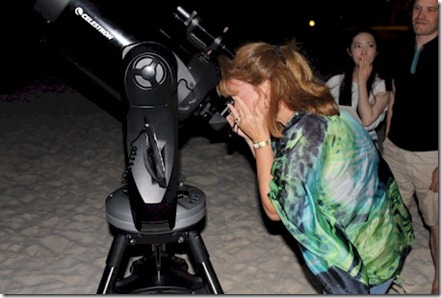 Maldives is famous for an abundance of stars. Not just the firm bodies of the jet set on the beach, but also a dazzling set in the firmament above.
With minimal light pollution and the many days of clear skies, the Maldives are a great venue for star gazing. Our family used to lie on the warm beach after dinner and just stare at the Milky Way washed across the middle of the sky.
An increasing number of resorts are introducing telescopes so guests can probe more actively into this heavenly display. Soneva Fushi has had its own entire observatory for a long time now. But, Mirihi offers a beach stargazing which is one of the best I have come across. Their 11 inch telescope allowed us to look at Saturn (complete with signature rings), Mars, Arcturus, and Alpha Centauri. What made the session distinctive was the Chief Astronomer Shareef who not only infused great enthusiasm and expertise, but also brought along his iPad astronomy apps. With them, he was able to take us on a tour of galaxies and the solar system in more detail and perspective with his masterful navigation through the colourful 3D universe
Over the next week is the Perseids meteor shower which is the best time on Earth to look for falling stars. If I see one, I will wish that I was back on the night time beach of Mirihi.