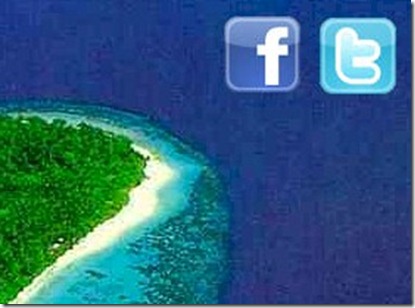 The web is getting more and more social. My Maldives Complete blog was one of the first dedicated Blogs to Maldives Resorts and now there are a fair number. I've already looked at resort website Forums and the grandmaster of all Maldives Forums on TripAdvisor. Now the giants on the block now are Facebook and Twitter.
To keep up with the times and how people get research their resorts, I too have created a Maldives Complete Facebook page and a Twitter feed. The Maldives Complete page is probably the best way to keep track of my contributions to resort's Facebook pages though mostly I post to the resort when I have written about them in a 'Best of the Maldives' piece. I also have started Tweeting, but after and initial flurry I've tapered off as Twitter activity on Maldives resorts seems a bit immature and quiet at the moment.
I've now also added a field in the profile for both the resort's Facebook Pages (or in some cases 'Groups') and Twitter accounts.
In the process of researching the information for all the resorts Facebook and Twitter information I did a review of all of their presences. The analysis was done at the end of January after which Facebook changed dramatically the 'Groups' feature. As a result, a number of the resorts' 'Groups' have been discontinued or else reset from scratch (showing low numbers of members).
In gathering up the various links, I uncovered some curious statistics…
Resorts without Facebook pages – 19

Average number of Likes/Members – 963

Average number of Photos – 216

Average number of Comments/Posts (not by resort) – 29 (over one month period)
This week is Social Media week with some special recognitions to the resorts who have best embraced this new connection to Friends and Followers.