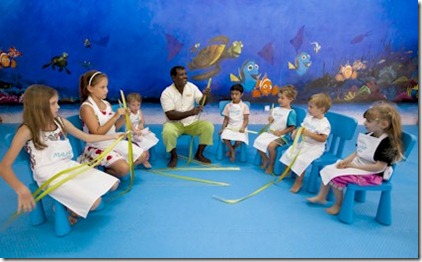 Happy Centenary to the Girl Scouts.
Our family has a proud tradition in the scouts with my father an Eagle Scout and my grandfather a 'Silver Beaver' recipient. A good scouting career often starts with a range of creative activities and skils building. Often, with the spirit of scouting, many of the crafts and skills use materials and tools found in nature.
Kurumba's new Majaa Kids' Club and Majaa Recreation Centre would do the Scouts proud with their 'coconut arts and crafts'. An extensive range of weaving, folding and other crafting of palm fronds are taught to kids of all ages including many equally enthralled mature students (see below).
Majaa Recreation Manager Monica Comanescu noted…
"The Dhivehi word, Majaa, means fun. This will be the underlying philosophy for the Recreation department. Majaa Recreation will be the 'fun' centre of the island. This allows it to be a unique identity and destination within Kurumba. The purpose of Majaa Recreation is to provide guests with many options to enjoy their holiday while experiencing the Maldivian palette and learning about the water that surround Kurumba in an environmentally responsible way with a Maldivian twist."
Majaa Recreation offers more than just crafts with such a range of activities, Kurumba grouped them into categories…
Kan'du (Ocean) – Ocean based activities

Hakatha (Energy) Energy or sporting activities

Kulhivaru (Games) Games

Visnun (Learning) Understanding and learning activities

Haveeru (Evening) Evening activities.
Some people like to sit around and do absolutely as little as possible on a Maldivian holiday, but Kurumba provides an alternative for those who want the option for broader range of fun.