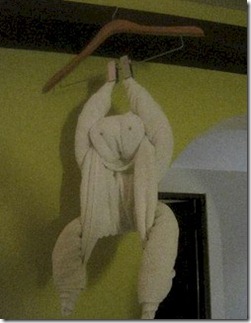 Pin it!
I was inspired by the terry cloth creature above to take the plunge into the latest social media – Pinterest. Pinterest allows you to set up albums to share collections of photos. I've already featured room art a number of times including 'Bed Decoration' and 'Bed Art', but this particular piece (shared with permission from guest Vincent Benita) is by far the most elaborate and cheeky I have ever seen.
The piece made me realise that I regularly come across great examples of bed and room decorations and rather than constantly revising my 'Best Of' posts, it would be better to create an honour gallery where al my discoveries could be collected and showcased. I'm started with the following two 'Boards'…
I was tempted to create a 'Maldives Sunset' Board since there are so many prize examples of those on the web, but I'm going to start with these first.