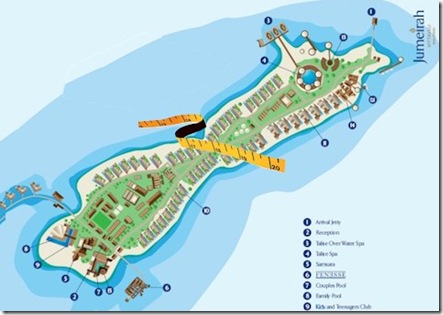 With so many tempting treats to savour, my wife Lori has decided that she needs to shed a few of the pounds that she brought back with her from our last Maldives trip. She's started the 'Rice Diet' whose first phase includes eating nothing but rice and fruit and she lost 4 pounds in 4 days.
If skinny is your thing, then Jumeirah Vittaveli has the smallest waistline of all. It even has an hourglass figure (see map above).
Some visitors (us included) like the smaller islands for the charm of a pre-sunset (or whenever) circumnavigational stroll. But, if you want to get from sunset to sunrise side in the fewest footsteps possible, then skinny is the trick.
This post was inspired by our stay at the Four Seasons Kuda Huraa where we took one wrong turn and were on the opposite side of the island in seconds. But checking out Maldives Complete's exhaustive list of lengths and widths, Vittaveli came up with the literally narrow victory at 70 metres across at its shortest point.
[image credit: Jumeirah Vittaveli]