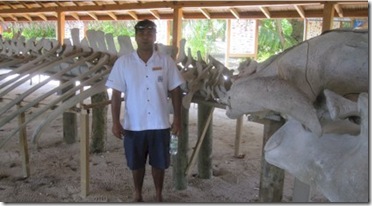 Happy Halloween!
If you want to get into the spooky spirit, a number of resorts are offering special parties and attractions tonight. For example, Kuramathi has its 'Halloween Horror' event which includes activities such as 'Pumpkin Bowling (where the objective of the game is to knock over ghosts), 'Monster Freeze', 'Scary-Tell-A-Tale' and 'Make Your Own Mummy'.
It's also a great excuse to visit Moosa's grave on Kandooma. But the resort with the most dramatic (and certainly 'Always Natural') Halloweeny feature all year round, is Meeru with its Blue Whale skeleton.
A number of resorts feature whale skulls (eg. Kuredu, Kandooma), but only Meeru has the whole skeleton. The Blue Whale is the largest known animal to ever have existed on the planet and the skeleton measures 18 metres in length. The skeleton came from a whale that had washed ashore years ago and the owners decided to keep the skeleton.