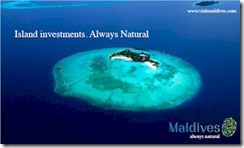 Maldives…Always Natural.
The big news out of the Maldives this week is their new promotional campaign 'Maldives Always Natural'. The announcement of the new logo has gotten most of the press, but that is just one piece of a larger, more ambitious marketing positioning. The logo got lots of coverage especially as such branding changes always inspire a lot of cynicism for any organisation. Lots of self-proclaimed artistic pundits take issue with one detail or another and proclaim that they could have done better.
The Maldives Marketing and Public Relations Corporation was at the forefront of the changes, but it merely served as an orchestrator for many Maldivian stakeholders whose interests were being represented. MMPRC started with a call for submissions for ideas and proposals from schools and the public. They enlisted worldwide professional expertise with a specialist company called QUO. Now the MMPRC have published the initial treatments which bring to life the slogan in a variety of contexts.
Its predecessor slogan – 'Sunny side of life' was cheesy, tired and pedestrian. It looked like it was promoting some down-market Spanish holiday camp. It was fit for purpose in the early years of catering to the European sun holiday market. But now, the 'Maldives' is a world-wide brand drawing visitors from all corners of the globe. And its aspirations extend beyond just tourism as it promotes other industries like fishing and takes a prominent place on the world stage for ecological issues.
Considering the huge scale of pressures and diversity of scrutiny that a government body is under, and the very broad brief, the Maldives are limited in how 'out there' and edgy they can get. I think the effort is very commendable and is a big step forward. What I like about the logo is the colours. One truly distinctive feature of the Maldives is the various shades of blue in the aquatic tapestry that blankets the islands. I've tried to incorporate that shades-of-blue colour palette in the design of Maldives Complete. The logo colouring really nails this superbly and subtly (contrary to the garish and dated style of the predecessor).
The pictures here show the various treatments and the full sized images can be found here.