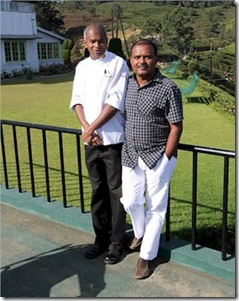 Asim Mohamed on right from his Flickr photostream
For Mohamed Asim, it is not just a job, not just posting, not just a career, not even a passion…it is his life. He is not only one of the few Maldivian native GMs, but he is definitely the first one still serving.
He doesn't just 'manage' the property, he lives it. He surfs the Lohi surf break. He dives. He has his own Flickr stream with nearly 100 images to share his avid photography documenting so many facets of Maldive life and Adaaran Hudhuranfushi highlights. He first cut his teeth in 'food and beverage' operation when he entered the Maldive tourism industry in its earliest days so he even mixes it up in the resort kitchen from time to time.
Asim has decades of experience and despite numerous assignments and bountiful opportunity to travel and work just about anywhere in the world, he can think of no better place to be than the Maldives. I can think of no better legacy of the Maldives increasingly proud and world leading tourism industry.
Happy Birthday Asim!