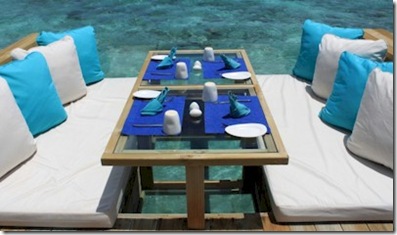 If BBQ isn't quite environmentally friendly enough for you, then maybe 'Green Cooking' would be more interesting.
No not 'greens' cooking. 'Green Cooking'. Eco-friendly cooking. 'Carbon-free Cooking'. As opposed to some of my BBQ's where there is nothing left of the cooking except for the charred remains of a collection of carbon atoms.
Six Senses Laamu has introduced 'Carbon Free Cooking' (thanks Sakis)…
"Zero-carbon cooking is the buzz phrase among chefs and diners who care about the environmental impact of the catering industry. The idea that you can cook a meal without contributing harmful greenhouse gas emissions to the atmosphere – whilst still making it delicious! – presents quite a challenge but is certainly one that will be inspiring Six Senses chefs over the years to come."
"At Six Senses Laamu we have now introduced a zero-carbon menu at Deck-a-dence, our amazing over-water, under-the-stars dining and chilling out decks. All ingredients are sourced from within the Laamu atoll and served raw, so no need for any energy to be consumed in cooking. A truly sustainable culinary experience."
Just to add to the experience and bring you even closer to nature, Six Senses Laamu serves the environmentally savvy savouries at a special over-water, glass-floored table (see above).
To start with, one way to reduce the carbon emissions from cooking, is to leave out the 'cooking' bit.  Or at least the 'fire' part.  The 'cooking' as in combining ingredients into delicious concoctions can carry on.  Salads and sushi were about the only 'raw' cuisine most people will eat, but Cordon Bleu chef Diana Von Cranach has pioneered a whole range of 'raw cooking' which she is bring to Six Senses Laamu (and Soneva Fushi) this coming week.  She will be featuring such dishes as "Mixed Mushroom, Oriental Herb & Calamansi Ceviche on Lotus Root, Fresh Living  Coconut & Fenugreek Green Soup with Angelhair Choko Noodles, Living Chickpea Chappati."