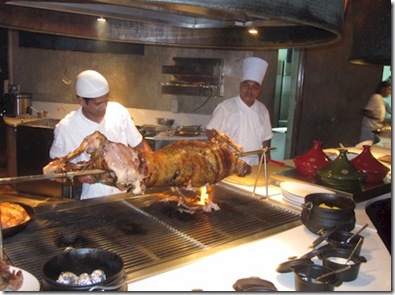 The recently passed Summer Bank Holiday (UK) and Labor Day Weekend (USA) are traditionally celebrated with a grand finale BBQ (or 'barbeque' or even 'Bar-B-Q' for you southerners) of the season. And if BBQ is your thing, one the W Retreat's signature restaurants is devoted to the cuisine of the flame. Dubbed 'Fire' in W's characteristically succinct style, guests help themselves to one of 4 BBQs complemented by a range of side dishes on offer…
Mongolian

Spit-Roast

Grill

Tandoori
Like most of the W's food, everything is prepared to order from a range of ingredients that you customise to your liking.
"Primal meets epicurean with spit-roasted whole suckling pig or lamb and BBQ-grilled marinated meat and seafood. Spice it up with Tandoor-cooked nan bread, chicken, fish or seafood accompanied by a variety of curries. Who's feeling creative? Mix and match ingredients at the Mongolian BBQ where you choose your fave ingredients. Or opt for the à la carte sharing items like succulent whole fish, mezzeh and meat dishes."
The central fire pit and pervasive tiki-torches fill the evening with a flickering glow for an ambience as inviting as the savoury delicacies.