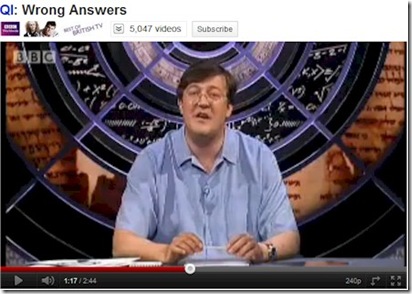 In honour of Stephen Fry's brilliant QI (short for 'Quite Interesting') TV comedy quiz show returning to BBC this weekend, we feature a couple of Maldives QI questions of our own…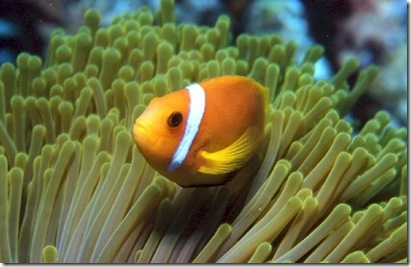 Question: What common, colourful fish in the Maldives is this a picture of?
Answer #1: A 'Nemo' Fish.?
[Sound effect]: Buzzzz! Wrong. The character 'Nemo' in Disney's film 'Finding Nemo' had three white stripes as a opposed to the single one shown above.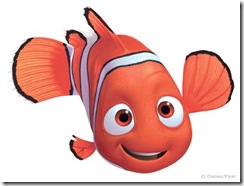 Answer #2: A Clown Fish.
[Soundeffect]: Buzzzz! Wrong. You are close in that the term 'clown fish' is often applied to all members of the family of 'Anemonefish', but not all Anemonefish are really clown fish including this specimen.
Anemonefish are from the subfamily Amphiprioninae in the family Pomacentridae and only one specific species of Anemonefish, Amphiprion ocellaris, is actually designated the 'Clown Anemonefish'. The fish shown at top is really a 'Amphiprion nigripes', also known as a 'Maldive anemonefish'. With its cousin 'Amphiprion clarkii' (also known as 'Clark's anemonefish' or the 'Yellowtail clownfish'), they are the two species of Anemonefish (out of 27 that exist worldwide) found in the Maldive waters.
As it happens, a number of Anemonfish have also been dubbed 'Clownfish' in their informal names such as Amphiprion perideraion (Pink skunk clownfish) and the Amphiprion melanopus (Fire or Cinnamon clownfish) as well as obviously 'Clark's which I said is known as the 'Yellowtail Clownfish'. But not this species here. Even Wikipedia describes the terms 'Clownfish' and 'Anemonefish' as interchangeable, but now you know the real distinctions.
Thanks to Sarah Kompatscher, Marine Biologist at Anantara, and Verena Wiesbauer Ali, Marine Biologist for Kurumba.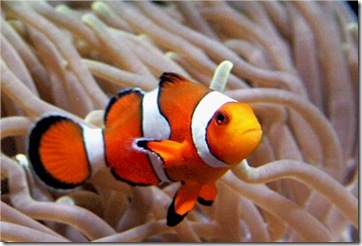 Proper 'Nemo' or 'Clown Anemonefish'