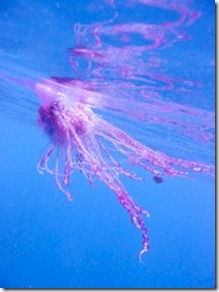 Question: What is this a picture of?
Answer: A Jelly Fish.
[Soundeffect]: Buzzzz! Wrong. This is a 'Portugese Man of War' which is not actually a 'jelly fish' but a "siphonophore. Siphonophores "differ from jellyfish in that they are not actually a single creature, but a colonial organism made up of many minute individuals called zooids. Each of these zooids is highly-specialized and, although structurally similar to other solitary animals, are attached to each other and physiologically integrated to the extent that they are incapable of independent survival." In this respect, Portugese Man Of Wars, also know as just 'Man of Wars' or 'Blue Bottles', are more like coral polyps.
As it turns out, this fact was so obscure that it escaped the Ceremonial Master himself in the first series of QI. Stephen Fry referred to a 'jellyfish' as the 'right class of animal' as a 'Portugese Man-of-War'. In reality, Man of Wars are not even the same of the same Order as jellyfish. They are in the order Hydrozoa, while jelly fish are in the order Scyphozoa…
Bill: Forget the buzzers. Off the buzzers now. I would hazard a guess and say the, erm, the Portuguese Man-of-War.
Stephen: Oh, now, do you know, I'm gonna give you five points, 'cause you're so much in the right class of animal.
Bill: Ah! See?
Stephen: It is a jellyfish.
Bill: A jellyfish.
Stephen: Yeah. It is a jellyfish.
Just one of the many fascinating facts we learned about Maldive ocean life during the talk by Marine Biologist Verena Wiesbauer Ali put on by Kurumba.