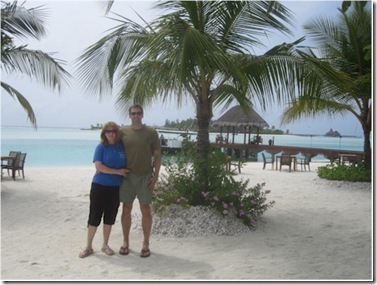 We live on a farm in a converted barn quite close to our other neighbours who also live in charming conversions. We are quite remote, being out on a farm, but we don't feel isolated because we have our neighbours with whom we regularly have spontaneous gatherings for BBQs, tea or drinks. It has a delightful 'little community' feel to it. Anantara Dhigu/Veli/Naladhu has that same feel.
A little cluster of three resort islands plus a staff island and a little bonus island makes it like a little exotic community of paradise. It has a different feel to that of the big resort islands, because each individual island is relatively small. Sales Executive Shanoon Khalid, who took me around, is a Maldivian native and he said that the 'community of little islands' feel is very authentically 'Maldivian' and has the closest feel of any resort to the ambiance and atmosphere of where he grew up.
The portfolio approach to resort layout also enables a 'have your cake and eat it, too' solution: the privacy of a small select property with access to a broad range of services and infrastructure – small island feel with large island amenities. Peace and quiet on the beach with water sports available (but secluded away on another island so little sound activity disturbs the beach-goers.
All three resorts are peppered with delightful touches you would expect from a proper 5 star property. For example, Dhigu's water villas have ceilings styled as if a Maldivian dhoni (traditional) boat had been overturned on the villa. Their design also provides great views while maintaining privacy from the adjacent villas.
The biggest shortcoming to these Anantara resorts is the snorkelling. You can, of course, go on plenty of snorkel excursions for some stunning snorkelling at nearby reefs. If popping out of your villa and plunging straight into snorkelling is high on your list, then I recommend the Veli island where they have some really fine crops of new growth branch coral in the water villa lagoon. Marine Biologist Sarah Kompatscher also says that there are a range of small reefs around the resorts that they can take you and direct you too (she says that octopus is actually quite commonly sighted and Shanoon noted that schools of squid are quite common) according to your swimming abilities.
Five-star done just right. Not too fussy, but nothing missing.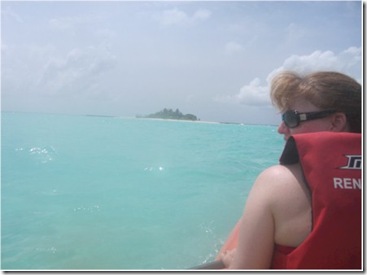 Ocean kayaking to the neighbouring 'picnic island'