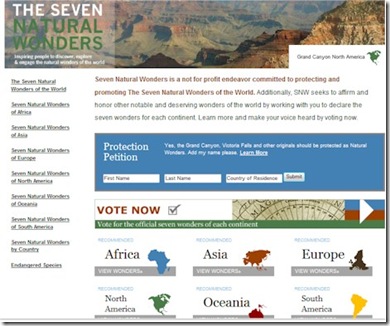 Beware Paid for Endorsements.
The big news out of the Maldives tourism circles this week is the Tourism Board's decision to withdraw from the 'Seven Wonders' competition. It turns out that tourism boards have to pay a significant price to be considered. So much for objectivity. The Maldives Resort Workers and Minivan feature good pieces on the headline announcement.
This sort of 'marketing' gimmick doesn't surprise me. I'll always remember my first marketing job for a small software company. We had a great product confirmed by customers who regularly rated us highest in 'bake offs' against the established players. But the industry leading 'independent analyst' (a real big name) never included us in their sector reports. We finally got an audience with their top analyst and asked why they neglected us and his response was, "Well, it doesn't help that you don't subscribe to our service." So we scraped up the extortionate price for a 'subscription' (tens of thousands of dollars) and low and behold the next report featured a lovely little mention of us.
In twenty years, the world hasn't changed at all. Now I am working in the media/broadcast sector, and one finds a similar cozy collection sector analysts/publications. One article was written about us winning the highest award in the UK (the Queen's Award for Innovation), but it was removed allegedly when they found out we were not subscribers to their service.
I don't fault the Maldivian Tourism Promotion Board for their earnest efforts at the outset of the Seven Natural Wonders campaign when it seemed somewhat creative and the investment was small ("$195"). But now that the Seven Wonders has exposed its true colours, MTPB is smart and courageous to say 'enough' and disengage.
This mutual graft is rife in the world. Auditors biased in their reports on clients. Rating agencies biased in their assessments of company well being. Investment banks biased in their stock recommendations. Magasines biased in their coverage. All based on how much one pays. My disenchantment with this dishonesty is one of my motivations behind Maldives Complete.
As I say up front, Maldives Complete has no ads, no sponsors, no selling. Just pure, transparent fascination and adoration with these idyllic islands. I make no bones about the fact that my writing and coverage (in the blog) is almost completely positive in tone. But that is a reflection of my heartfelt attitude about the Maldives, not the result of anyone bribing me to feel or write that way. With this site getting bigger and taking more work and resources (out of my free time and pocketbook), I am grateful that a number of resorts are helping me with discounts and comps. They reduce, but don't eliminate the significant personal investment I have to make to keep the site up to date. And in no way do they affect my coverage. I still research and include every resort I can find juicy pieces on. Similarly, the best online resources – TripAdvisor is a fine example – have strict rules on any bias or promotion making its way into the content of their reviews and forums.
When looking for a Wonder-ful trip of a lifetime, turn to the enthusiasts over the self-appointed, commercial pseudo-official lists for your guidance.