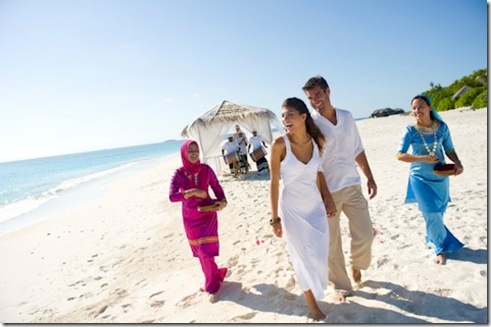 One objection to a Maldives trip is not enough 'cultural' stuff to do. Sitting in the sun on a tiny, dedicated resort island doesn't really present any historical or cultural experiences beyond some chit-chat at the pool bar. Cultural exploration at most resorts is limited to an excursion to a local island or Male and some visiting traditional dancers.
But, if you do want to sample a broader range of the local custom, then The Beach House at Manafaru has just launched a complete range of Maldivian treats including…
Historic island excursion – "Utheemu island, one of the most historically important places in the country being the birthplace of national hero Mohamed Tlrakurul'aanu who led the resistance against the Portuguese invaders in the mid 16th century. The visit includes a tour of a 500 year-old palace, local historic places, a market and a visit to a home in the nearby village to sample local delicacies cooked by the family."
Maldivian Night – "Every Friday evening the resort transforms one of its beaches to an open air market offering a Maldivian style feast. With delicious local delicacies, specially prepared by the resort's creative kitchen team, this evening brings the culinary treasures of the Maldives to the dining table."
Maldivian Style Afternoon Tea – "Over a century ago, when the King visited the islands of his kingdom, the tradition of home-baked Maldivian snacks and infused drinks was created to welcome him…Subtly fragranced tisanes made from local herbs accompanied by delicate savouries, pastries and cakes, all with a local twist, are served in ART, a thatched-roofed open-air restaurant nestled in the lush tropical gardens of the resort."
Maldivian Line Fishing – "Fishing is the lifeblood of the Maldives. To truly understand the culture of the country, a fishing excursion on a dhoni (a traditional Maldivian boat) opens doors to the rhythms of the ancient ways that are still practiced today. The boat sails in the late afternoon and as the sun falls towards the horizon the experienced fishermen will show the guests how to catch their own fish using the traditional hand line method. No nets, no rods, just a line, a hook, you, the fish and the infinity of the ocean. Fish caught on the excursion will be prepared and cooked by the resort's chefs for the guest's lunch the following day."
Maldivian Cooking Class – "One of those dishes that the guests can learn to cook is called "Muranga Tholhi Kiru Garudhiya'(drumstick milk curry)."
Veli Modun Signature Treatment – "This unusual spa treatment [uses] locally sourced ingredients, this treatment is designed to invigorate and energize the body and assist in alleviating any aches and pains."
Maldivian Blessing Ceremony – "The resort's team will organise a stunning ceremony for the couple that includes traditional drumming, flower petal shower and a barefoot ceremony on the beach."
Each of the activities can be booked individually, or Beach House offers a comprehensive package with every one included.
Aharemen dhanee kon irakun? (Dhivehi for "When do we go?")