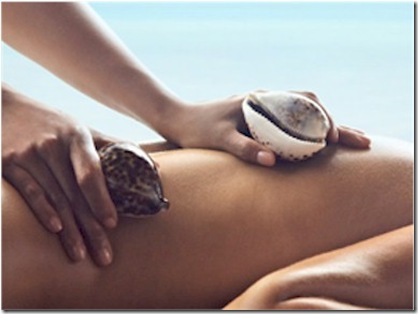 All that working out got you achy and depleted? Well then, sounds like you need a spa appointment.
Something different? Something that evokes the very paradise you are savouring each day? How about Shangri-La Villingili's 'Cowrie Shell Experience' treatment?
When I lived in Africa, you used to see cowry shells used extensively. Used in religious rituals. Used in jewellery. They are seen as symbols of womanhood, fertility, birth and wealth.
Historically, cowries were used as currency and, in fact, the very first cowries used as such came from the Maldives. Furthermore, the Shangri-La Villingili's 'Chi' spa uses locally produced coconut oil. Lots of resorts offer Ayurvedic style treatments which are indigenous to the sub-continent region (as does Shangri-La), but the cowry shells are a nice touch with their own mystical properties and heritage.
Shangri-La describes in its 'Sense of Place' line of treatments…
"Indigenous treatments inspired by the history of the treasures found in the Maldives Ocean, the name Kandu Boli, meaning "sea shell", draws its energy from the ocean. Experience the touch of the unique Cowrie Shell Massage of the body, face and scalp combined with our Maldivian Coconut Oil made by a local community. Nurturing to the soul, relaxing to the body and calming to the mind… Surrender to Villingili's Cowrie Shell Experiences…"