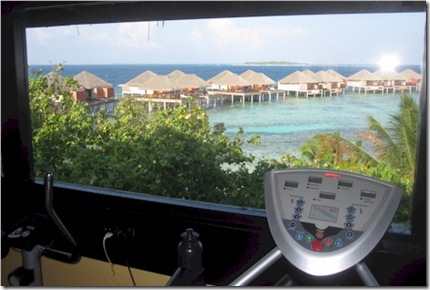 The worst thing about working out is the dreary, indoor tedium. Some gyms try to add some distractions with a television screen. But how about being uplifted and inspired by one of the most beautiful scenery on the planet?
Many resorts along with upgrading their fitness facilities in general, have also taken them out of the back rooms secluded in the middle of islands and moved them to waterside for some inviting scenery to dull the pain. I'm not sure which is the 'best view', but the 'best vista' has to be Adaaran Vadoo.
Vadoo combines elevation with view. It's gymnasium is on the third floor of its main centre. It is rare to find a second story in the Maldives, never mind a third floor. And the view is set out over the villa lagoon and ocean beyond. For this reason, I chose Vadoo over Traders which has a top floor gym 13 stories up. But the windows look out over the which is mostly over the city of Male (the North view from Azur is the great view of the ocean).