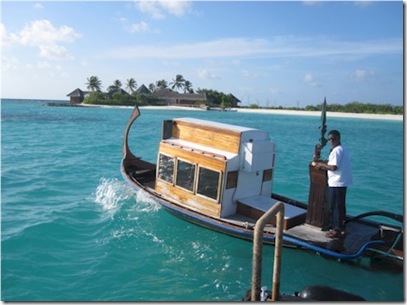 My recent visit to several prime resorts in the Maldives uncovered a wealth (65) of distinctive features that I will be exploring in depth over the coming months. I thought I would start off with a taster selection over the coming week for each resort.
The first resort on the itinerary was Four Seasons Kuda Huraa. Every spa treatment is a treat. And the best Maldive ones build up the anticipation with lovely receptions infused with incense and ambient tones that start the process of transporting you away mind and body to another place. Four Seasons Kuda Huraa takes this 'transporting' quite literally to a whole new level with its shuttle service to its spa. The Kuda Huraa spa sits by itself on a small little island just off shore from the main island. You could take a short swim over I guess, but the quaint 'Kuda Dhoni' ('Little Boat') ride over is just the thing to shift gears from the resort to your own little special sanctuary.
And the destination is worthy of mention. It is certainly one of the top massages we have had (the therapist was very attentive to a neck pain and spent extra time on that area that was very effective).